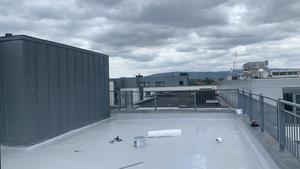 In these few photographs, we did a project to restore a broken down felt roof.
Here are some looks at the before treatment and after treatment.
Owl Lava 20 is one of our liquid membrane waterproofing roofing system, its is a liquid waterproofing system that is extremely durable, has a fast application, easy to use, flexible, chemical resistant and shock resistant.
Lava 20 liquid waterproofing can be applied on to wood (new builds), felt roofs, asphalt, concrete floors, asbestoes, metal and fiber glass.Lava 20 is CE and BBA
This is one of our many felt roof projects with Owl Lava 20.
Images in this category