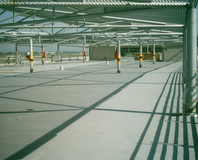 Owl Waterproofing carpark decking solution is a high performance, fast-setting waterproofing system that protects concrete, timber, masonry and steel structures from deterioration by water and chloride ions.
Applying carpark decking. Our carpark decking solution is roller or spray-applied and designed to be a water and chemical-resistant coating with added abrasion and slip resistance. It can be applied to virtually any surface, including horizontal and vertical, to form a tough abrasion resistant membrane that is durable enough to accommodate most normal movement contained within structures of all types.
Some benifits of the Owl Waterproofing carpark system:
Rapid application and curing; quick curing properties allow it to be walked upon in under 20 minutes.
100% effective waterproofing that lasts for years
Heavy duty throughout when applied to all areas.
Weather tolerant; applied in the widest range of climatic conditions and temperatures.
Excellent adhesion; bonds to almost all substrates.
Can be applied vertically as well as horizontally, making it ideal for all types of applications.
Excellent elasticity; tests of crack bridging at 2 mm achieved.
Lightweight; minimises dead load when compared to asphalt systems.
Ease of detailing and day works joints; seamless, liquid system provides easy application.
Easy to repair; damages can be repaired easily.
10 year independent insurance backed guarantee available.
Can be steam cleaned and degreased.
Long service life; excellent resistance to ageing, UV, abrasion, weathering and chemical attacks.
To download the Car Park System Specification please click link below:
Contact us today for more information:
Email:
Phone:
0845 528 1480 (UK)
01 830 22 50 (IRE)